Second Summer School in Islamicate Digital Humanities for Scholars in Manuscript Studies
2 June 2020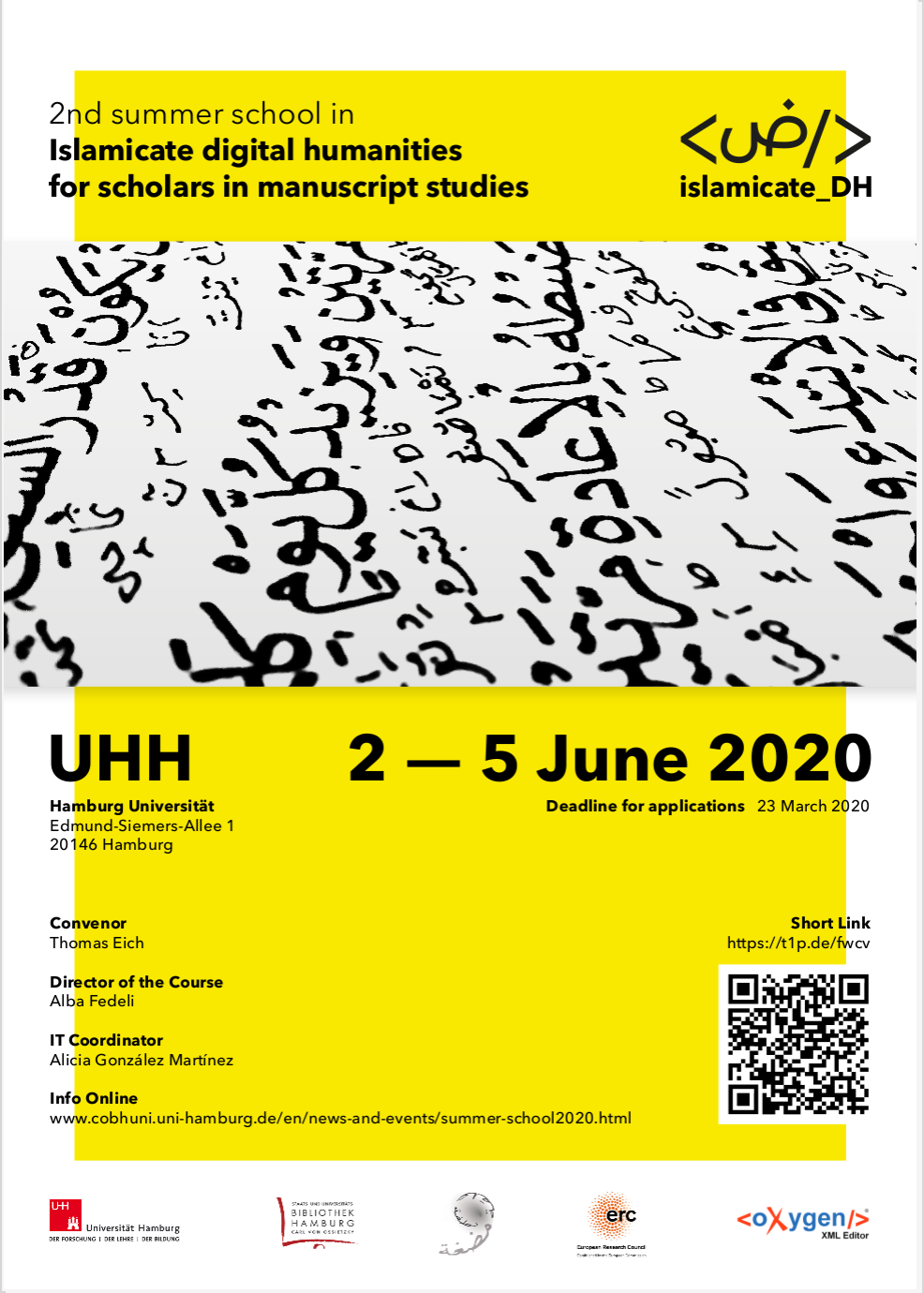 ---
Date: 2 – 5 June 2020
Venue: Hamburg Universität, Edmund-Siemers-Allee 1, 20146 Hamburg
Convenor: Thomas Eich
Director of the Course: Alba Fedeli
IT Coordinator: Alicia González Martínez
Contact details: Alba Fedeli at alba.fedeli"AT"uni-hamburg.de
Deadline for applications: 23 March 2020
Deadline for registration: selected candidates will be informed by 3 April 2020 and need to register by 4 May 2020
Registration fee: €100,00
---

Aims and content
This summer course is for graduate (MA and PhD) students and researchers who work with manuscript materials in Arabic script and want to learn how to choose tools and resources that are available to them and how to apply digital technology in their research.
The course will consist of introductory sessions on basic topics scholars encounter when dealing with manuscripts in Arabic script in a digital environment: text encoding, selection of an appropriate model for the organisation of the data and for annotation, mark-up languages and tools, surface- and semantic based search. This theoretical framework will be followed by hands-on sessions.
Instructors will guide participants in a practical session for planning their own digital edition of a few Qur'anic leaves using TEI standards customized for early Qur'anic manuscripts and, optionally, their own manuscript texts.
There will be practical sessions for learning how to perform advanced text search using regular expressions, and understanding the added-on value of a semantic search and which digital resources have to be involved in such a search.
At the end of the course, participants will be able to plan and build a digital edition of their manuscript texts and will have a basic knowledge of the powerful tools that they have at their disposal for making the most of their data to investigate manuscripts. Ultimate goal of the summer school is to give a basic knowledge on how to choose – if a digital tool is needed - among the numberless options available to scholars according to their own research questions.
George Kiraz will give a keynote lecture on "From Parchments to Bits: DH Tools in building Digital Corpora from Ancient Manuscripts".

Participants will have the chance to learn about the history of Oriental Studies in Hamburg with a special focus on its role in the restoration of early Qur'an manuscripts in Yemen as well as to see a few interesting items from the Oriental manuscript collection held at the University and State Library (https://spezialkataloge.sub.uni-hamburg.de/hans-handschriftenkatalog.html).
Practical information
The number of participants is limited to twenty people for the effectiveness of the practical sessions and thus, people who intend to participate must apply by 23 March 2020.
The registration fee of one hundred Euros (€100,00) provides full participation in the summer school. Selected candidates will be informed about their successful application by 3 April and will need to register and pay the registration fee by 4 May 2020.
Morning and afternoon coffee-breaks and light lunch Tuesday to Friday will be provided to the participants.
Participants are responsible for their own travel and accommodation arrangements and payment. Please, contact the COBHUNI Project Coordinator, Julia Rössing, if you need any suggestion about the available options and areas to find an accommodation.
The language of instruction will be English and participants are required to have knowledge of Arabic script.
Participants will have to bring their own laptop for the practical sessions. If you have any problem, please inform us writing at

julia.roessing

"AT"

uni-hamburg.de

.
Application
As the number of participants is limited to twenty people for the effectiveness of the practical sessions, students and researchers interested to participate in this summer course must apply by submitting the following details in a single PDF-file:
A one-page CV
A motivation letter (maximum 200 words) explaining their interest in the course and their field of research
A list of their technical skills in order to organize the practical sessions in the more effective way although they are not a requirement for participating in the course. Applicants have to indicate – for example - their knowledge of -any software for annotation, searching and/or any type of data handling; data formats; digital editing; programming languages, etc.
All documents have to be sent as a single PDF-file attachment named as "LastName_Name_HamburgDHSchool_2020" to Julia Rössing at julia.roessing@uni-hamburg.de and Alba Fedeli at alba.fedeli"AT"uni-hamburg.de

The deadline for applications is Monday 23 March 2020 and participants will be informed about their application by Friday 3 April 2020.
Application is closed.
Programme
Programme_Summer_School_2020.pdf
Information about Hamburg
From the airport, you can reach the venue by S-Train. Just get on the S1 via Ohlsdorf and change at Ohlsdorf for the S11 via Blankenese and get off at Dammtor Station. The main building of the university can be reached with the trains S21, S11 and S31. Another option is the subway: U1 Stephansplatz station. There are also busses going to Dammtor (Line 4 & 5). If you want to check your train connections or buy online train tickets, go to www.hvv.de/en.
Around the university campus, there are many possibilities to have inexpensive lunch. At the Grindelallee, you can find different restaurants and Kumpir places.
You can stay close to the campus at Hotel & Hostel B8, but you can also find inexpensive accommodations at: www.hamburg.com. If you want to experience multicultural food and nice little shops, we can recommend a visit in the Schanzenviertel. It is only one train stop away from campus.

Invitation Letter
Participants requiring an official letter of invitation in order to obtain a visa will have to contact Julia Rössing at julia.roessing@uni-hamburg.de (Tel: +49 40 428 38 -7882).

Instructors
Thomas Eich is Professor for Islamic Studies at the University of Hamburg. He is currently directing the ERC-Research Project "Contemporary Bioethics and the History of the Unborn in Islam" (COBHUNI), which aims among other things at the development of computational functionality for its use in humanities working with Arabic script.
Alba Fedeli is a research associate at the Asien-Afrika-Institut, Universität Hamburg working on the transmission of early Qur'ānic manuscripts using digital philology and phylogenetic methods. She received her PhD from the University of Birmingham, UK, after studies in Italy with Sergio Noja Noseda and has first-hand knowledge of manuscript collections scattered all over the world, from Yemen to Ireland, from Russia to Qatar and Egypt. Her works include the edition of the Mingana-Lewis Qur'ānic palimpsest.
Alicia González Martínez is a research associate at the Asien-Afrika-Institut, Universität Hamburg. She has a multidisciplinary profile covering Arabic linguistics, Oriental studies and software development, with a special focus on Arabic Natural language processing.
Carolin Kinne-Wall works as IT-coordinator at the Asien-Afrika-Institut, Universität Hamburg. She studied Computer Science in Bonn, Cologne and Singapore and worked in different interdisciplinary projects as IT- and data manager.
George A. Kiraz is a Senior Research Associate at the Institute for Advanced Study, Princeton, and the Director of Beth Mardutho: The Syriac Institute, Piscataway. He obtained his Ph.D. in Computational Linguistics from the University of Cambridge (1996) and worked at Bell Laboratories for some years. He has been at the forefront of the Digital Humanities from its early days especially advancing Syriac computing. He has written extensively on computational linguistics and Syriac studies.
Jürgen Neubacher is Head of the Special Collections Department at the State and University Library Hamburg and Librarian of the music manuscripts and books.
Cristina Vertan is senior researcher in the Computer Science Department, Research Group "Computerphilologie", Universität Hamburg. She studied Computer Science in Bucharest and Marseille as well as statistics in Brussels. She holds a Ph.D. in Computer Science from the University of Bucharest and had a Humboldt fellowship in natural language processing. She is specialised in Computational Linguistics, with focus on multilingual applications and Digital Humanities, especially the processing of historical texts. She developed the first annotation tool for classical Ethiopic, which enables multi-level mark-up and a deep automatic controlled annotation of this Semitic language. She is currently developing the first comprehensive ontology for the history of the ottoman empire.